Gateway of sending SMS professional
Send SMS GATEWAY, An autonomous footbridge with modem gsm to send SMS since your YES. The use of a footbridge of professional SMS sending makes you autonomous and brings you a great deal of advantages, in term of speed of distribution of the sendings, the use of bases of multiple contacts, saving and control over the use of the emitted SMS.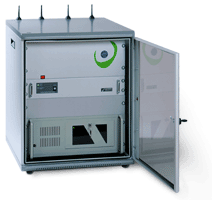 From the Footbridge of SMS sending, it is possible to connect all the systems of your IT service, the waiters(servers) of the company and the business-specific applications. It will be easy to interface with the SMS gateway with any installed(settled) software or equipments of the company.
The technical support will help you if need to parametrize and to redirect flows to emit(utter) in the specific file(case) of scrutation. The gateway of sending of message is simple and fast to configure. it will be accessible to all your collaborators via a Web access.
The SMS solution Gateway proposed by the software publisher Clever Technologies, becomes integrated easily into YES. The SMS platform Gateway is evolutionary, you can configure several modems gsm via 32 so necessary ports(bearings).
The SMS platform autonomous Gateway SMS multi-operators, integrate the new technologies and allows to send messages such as SMS, Email, Faxes, vocal messages, to pager.
All the solutions of communication of Clever Technologies, are going to allow you to realize sending of professional SMS (management of spams, stop). Our customers trust us for the acquired experience in the domain and the seriousness of our technical teams. We are a serious and reactive partner in all the demands(requests) of collaboration, partnership.
Gateway which allows to send and to receive SMS, vocal messages, faxes and from electronic messages (e-mails) since every type(chap) of computer, towards any telephone, fixed or mobile. Find more information on the SMS solution Gateway of the publisher(editor), Clever Technologies